There is a great historical tradition of medical nomography, started by Lawrence Joseph Henderson.
Professor Thomas L. Hankins has written a wonderful article entitled " Blood, Dirt, and Nomograms: A Particular History of Graphs." In this 1997 History of Science Society Distinguished Lecture, the author describes how, in the 1920's, L. J. Henderson, a Harvard physiologist and the first president of the History of Science Society, attempted to analyze mammalian blood solely as a physical-chemical substance. He found that the only way he could describe a chemical system as complicated as blood was by a diagram called a "nomogram." Henderson worked with and was greatly influenced by d'Ocagne.
The lecture tells the history of Henderson's nomogram and of nomograms in general. It describes the origins of graphs in the eighteenth century, their development in nineteenth-century engineering practice, and their importance in the twentieth century for describing physical and chemical systems. The "blood" in the title of the lecture refers to Henderson's seminal 1928 book, " Blood. A Study in General Physiology." The "dirt" refers to the most common used of nomograms in the 1800's, that of simplifying the cut-and-fill calculations needed for grading in civil engineering.
In the past ten years, Dr. Michael Kattan has used nomograms in several hundred publications to aid in the diagnosis and evaluation of treatment options for various types of cancer. He has almost single-handedly created a renaissance in the use of the tool in medicine. We are very pleased to have published an article with Dr. Kattan in Seminars in Oncology called "What Is a Real Nomogram?"
Here is a nomogram from that article.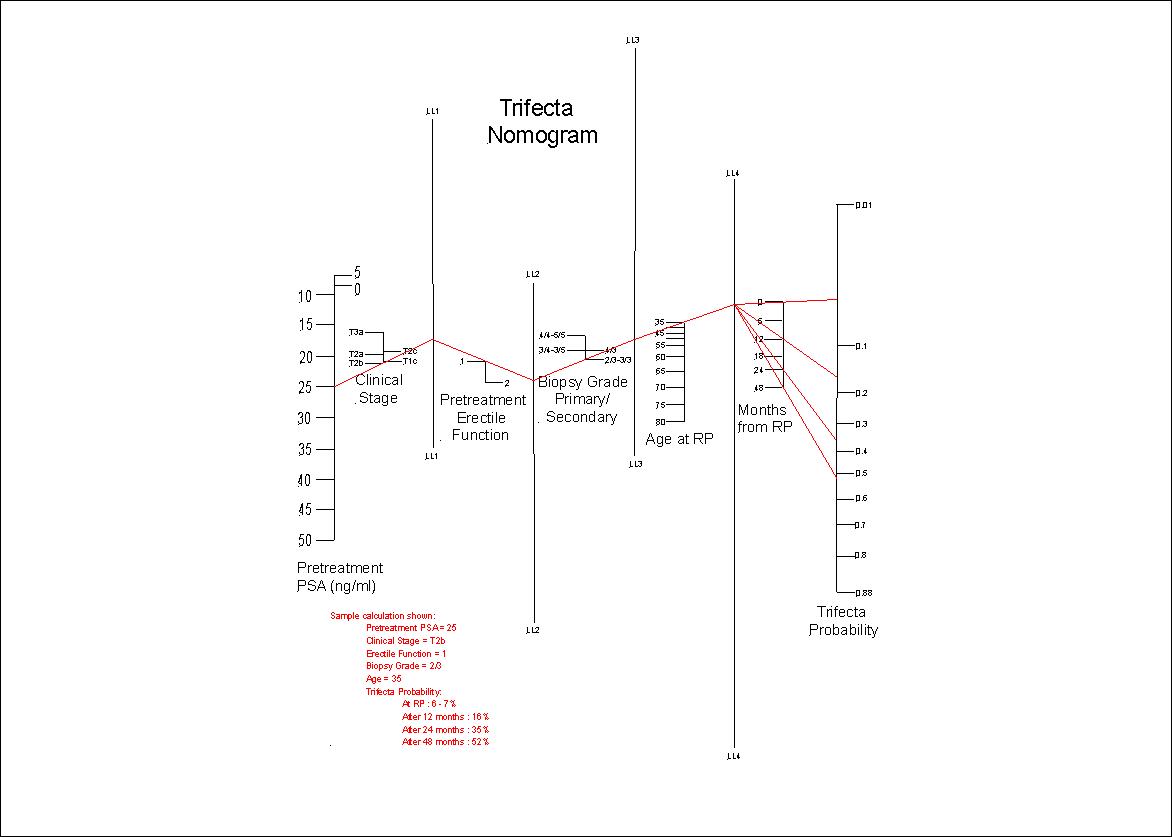 Late in 2011, Ron Doerfler, Leif Roschier and I published an article in The UMAP Journal:
Marasco, J., Doerfler, R., and Roschier, L. 2011. Doc, What Are My Chances? The UMAP Journal 32 (4): 279—298.
We discuss medical diagnostic testing protocols using Bayes' Theorem as a starting point. We work a complete example from start to finish, and employ original nomograms of our own devising to facilitate calculation; PyNomo was extremely helpful in our production of these nomograms. Finally, we use our tools to comment on the efficacy of PSA screening in the early detection of prostate cancer.
I gave a talk based on this article at Stanford University in the spring of 2012. You can see a YouTube video of it here.


The Three Musketeers of Nomography now have a web site. We provide a variety of nomographic services as well as high quality nomograms on heavy card stock. A link to the UMAP Journal article is also available there.